You may or may not know, I live in Redlands, California. In its hay day Redlands was the citrus capital of the world (OK slight exaggeration; there were a lot of citrus groves). There are still a few around town and they are the predominant tree type in residents gardens. At this time of year every where you look you see trees laden with juicy citrus fruits and/or delicate blossom. The intoxicating fragrance of the orange blossom wafts around you the moment you step outside
it really is gorgeous
(or sneeze worthy depending on your allergy status!)
. Now is the time to get busy with citrus fruits.
A friend gave us a huge bowl of lemon's from her tree; we made lemonade and lemon surprise pudding then I remembered lemon spice squares. Lemon spice squares are part of my childhood; just saying the name stimulated my senses and I haven't eaten one for at least 15 years.
I didn't have a copy of the recipe. I tried googling it, nothing. My sister couldn't find her copy and my Mum wasn't home so no help. I then tweeted my oldest friend & she came up trumps. Yay for Harriet! Her eldest daughter had put the recipe in her school fundraiser cookbook. One twit pic later & we were cooking. Don't you just love social media?!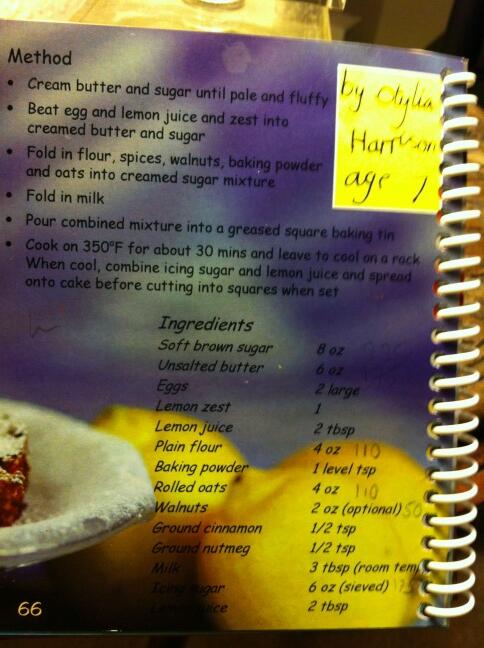 My mum thinks the recipe came from her cousin Ann who lives in Vancouver, and judging by the butter quantities it did come from another era. Lemon spice squares are moist, light, chewy from the oats and deliciously citrusy. I think we should patent* the recipe as I couldn't find it on the web; remember you read it here first!
Here it is again in case you can't read the picture
zest & juice of one large lemon, or 2 for a mega citrus hit
1 tsp (at least) cinammon
Preheat the oven to 350F.
Cream the butter & sugar together until pale & fluffy. Much easier if you use an electric mixer. Beat in the eggs, lemon juice & zest to the butter mix. It does look a bit curdled, don't worry. Now fold in the dry ingredients - flour, baking powder & oats. Lastly stir in the milk.
Spread into your lined tin (mine is approx 7x11") and bake for 30-35mins. Do the clean skewer test, it should be slightly browned on top.
Whilst it is baking mix up the glaze of icing sugar and lemon juice. Pour over the cake whilst it is still warm in the tin. Cut into squares and devour.
Next time I make them I may have a fiddle with the quantities to lighten the butter load, use a mix of wholewheat & plain flour, more oats etc but for now we were happy to enjoy them just as I had remembered.
Do you have a recipe from your childhood? Do you still use it?